Building success for today's pioneers & leaders.
Since 2014, Okoone's teams have continually helped leading enterprises, public organizations, SMBs and startups around the world to maximize their impact in the digital space.
Every day, we help our clients around the world lead the way.
Ideas have the potential to create disruption and set new standards, but often fail to materialize. In practice, expert advice at the right moment is all it takes to bring these ideas to life and transform organizations through digital innovation into market leaders.
Over the past decade, Okoone has helped a diverse range of market leaders and innovators across many industries achieve consistent results by delivering successful digital solutions that streamline their operations, drive business and operational growth, and create exceptional digital experiences for their customers.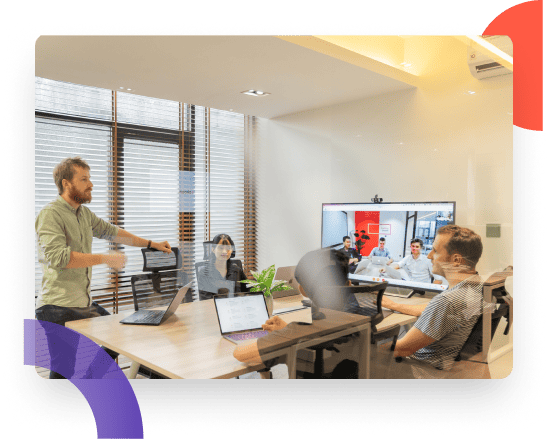 We work with upcoming and leading organizations worldwide.
Dedication that drives results
Envisioning and building
world-class platforms for our clients.
Focusing on results is key to achieving success. At Okoone, we closely monitor data to ensure we make a difference in user acquisition, satisfaction and conversion on a continuous basis.
Brilliant ideas brought to life, together with our clients.

Incredible mobile and TV video streaming platform for Brut.
Brut. needs no introduction when it comes to today's global media companies. Operating in Europe and the US, Brut. publishes content daily in 3 languages and across 8 social platforms generating over 1.5B views a month.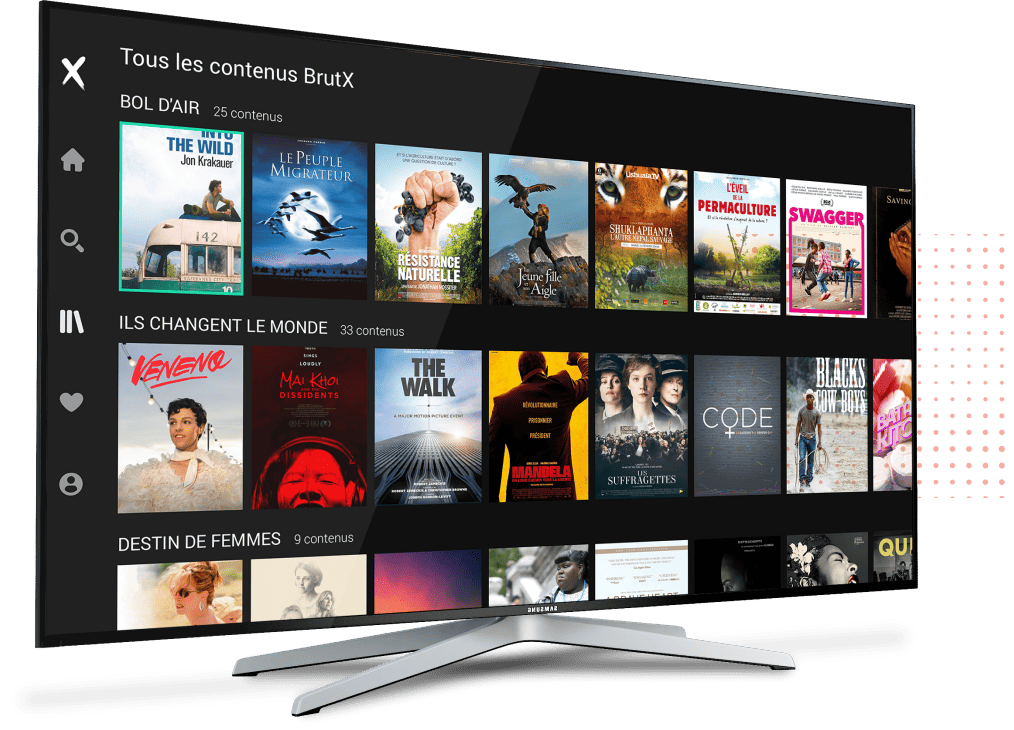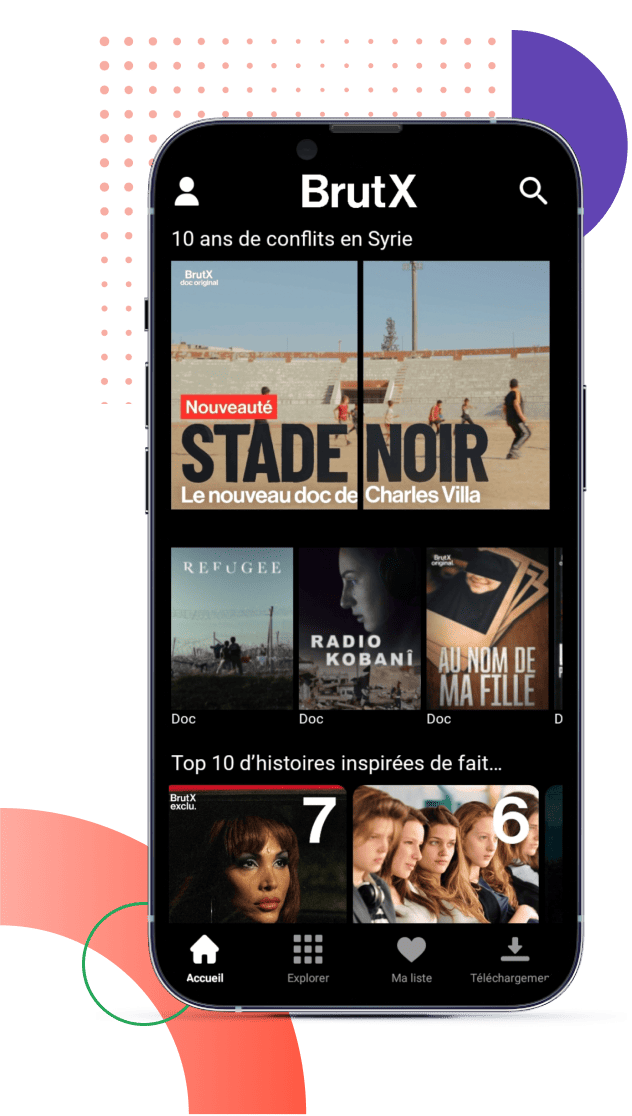 Working together with Brut., Okoone's teams of product managers and technical experts have disrupted the video on demand (VOD) offering by engineering and managing Brut's state-of-the-art mobile and TV applications.
Hundreds of thousands of free and paid customers have already subscribed to and accessed exclusive content through Brut's Android TV, Apple TV, iOS and Android mobile applications crafted by Okoone's experts.

Empowering communities with the United Nations through a sustainable energy management ecosystem.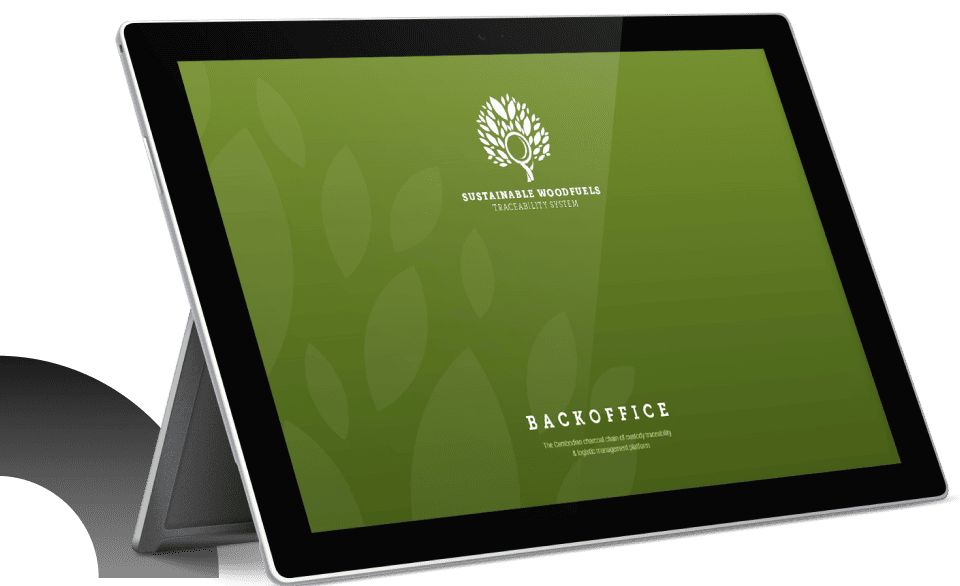 Over the past decades, the United Nations have helped people in need around the world by alleviating communities' difficulties and creating the possibility for millions to access a better life, using the latest technological innovations.
Okoone's experts, together with UNDP teams, designed and developed a ubiquitous and centralized mobile and web ecosystem for efficient wood and sustainable resource management by optimizing the harvesting, transformation, transportation and delivery processes, with a self-subsidizing tree replantation business model.
Using the latest web, mobile and data technologies, Okoone's teams conceived and developed a series of Android applications, web platforms, and back-office dashboards to let local communities, authorities and agents collaborate effectively and make the best of limited resources.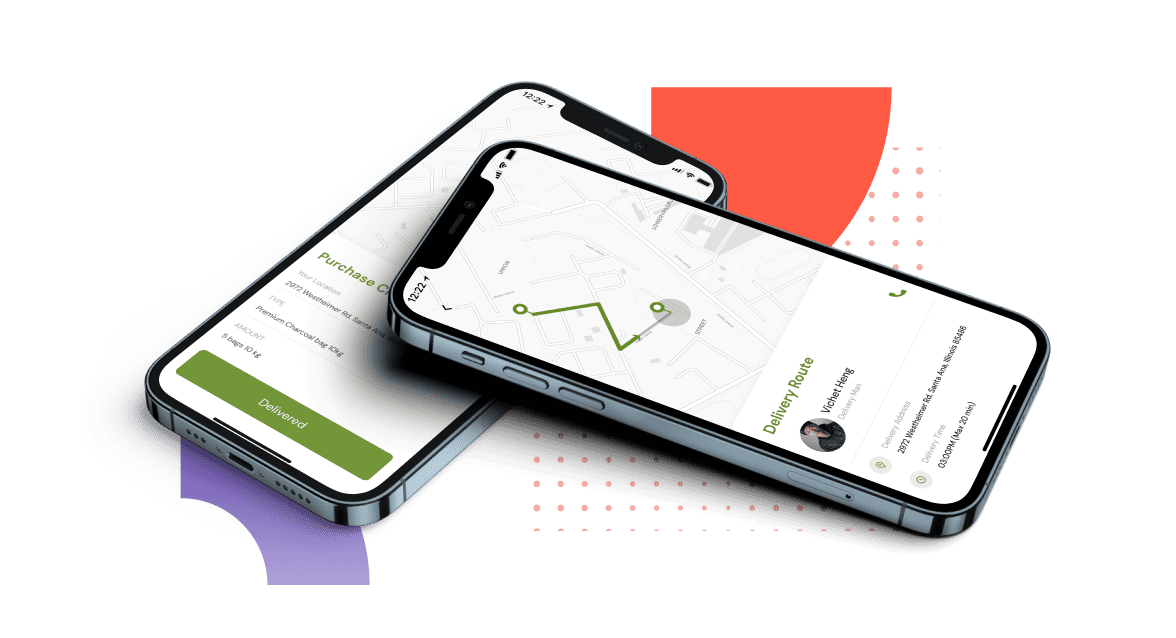 Building the world's most trusted air quality data monitoring ecosystem.
Every year, 7 million people die from air pollution and billions suffer from the negative effects of poor air quality. A decade ago, IQAir – the world leader in air purification – set a new vision for a better quality of life by raising global air quality awareness.
Today, IQAir offers the world's largest and most trusted real-time air quality information platform, engaging an ever-growing number of citizens, public & private organizations and governments.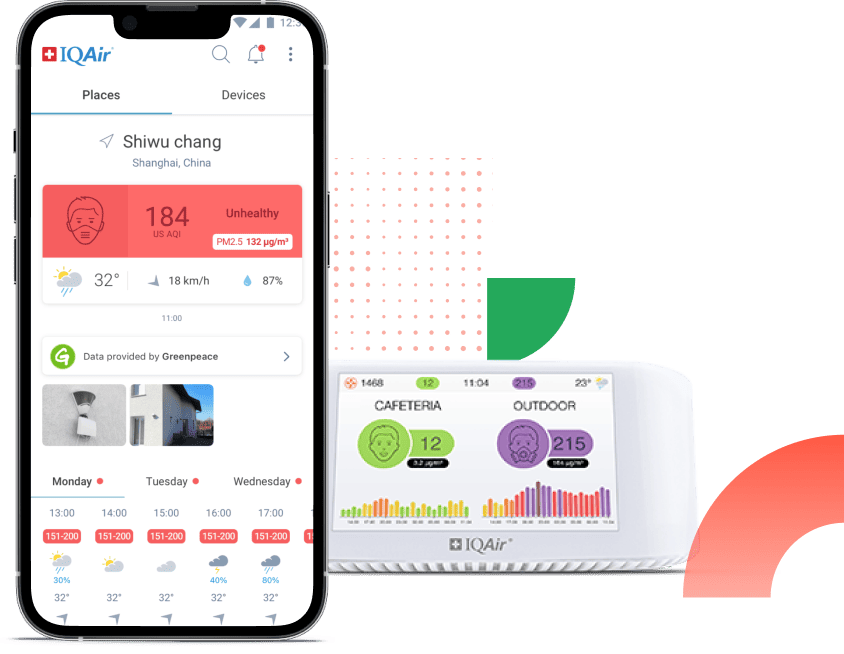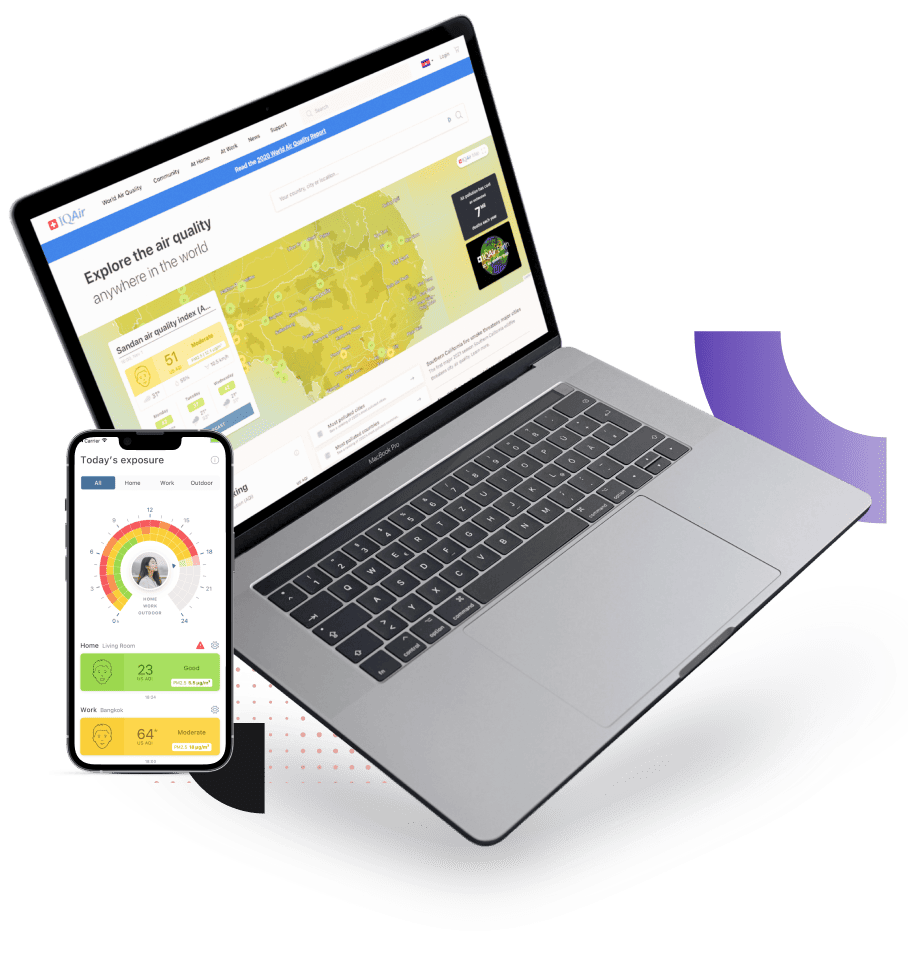 Okoone started on this journey with IQAir in 2016, leading the design, engineering and growth of what started as just a vision without existing users, growing it to be the #1 most visited air quality platform in the world, with more than 30M visits a year.
Using the latest web, mobile and IoT technologies, Okoone and IQAir teams are working on constant technological innovation to offer free, accurate and reliable air quality information to everyone. Together, we created a unique data management platform to help researchers and government agencies make key decisions about the control and reduction of air pollution on the planet.

Secure promotional marketing platform for DBS Bank clients.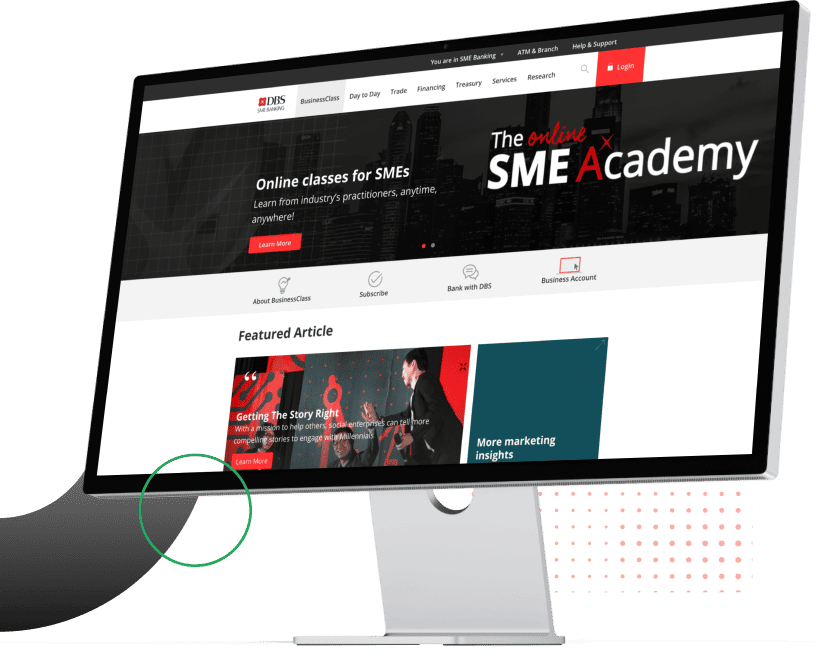 With more than 33,000 employees and a presence in 18 countries, DBS (SGX: D05) offers one of the world's most advanced banking experiences, making a crucial service more accessible, informative and easy to use, targeting growth and leveraging the latest technologies available on the market.
Modern banking applications require a paramount focus on security, user engagement and best-in-class user experience. Okoone's digital experts, together with DBS marketing teams, worked to address these challenges by designing and engineering DBS BusinessDeals – a digital platform offering preferential deals to their customers with banking-grade security and unmatched user experience.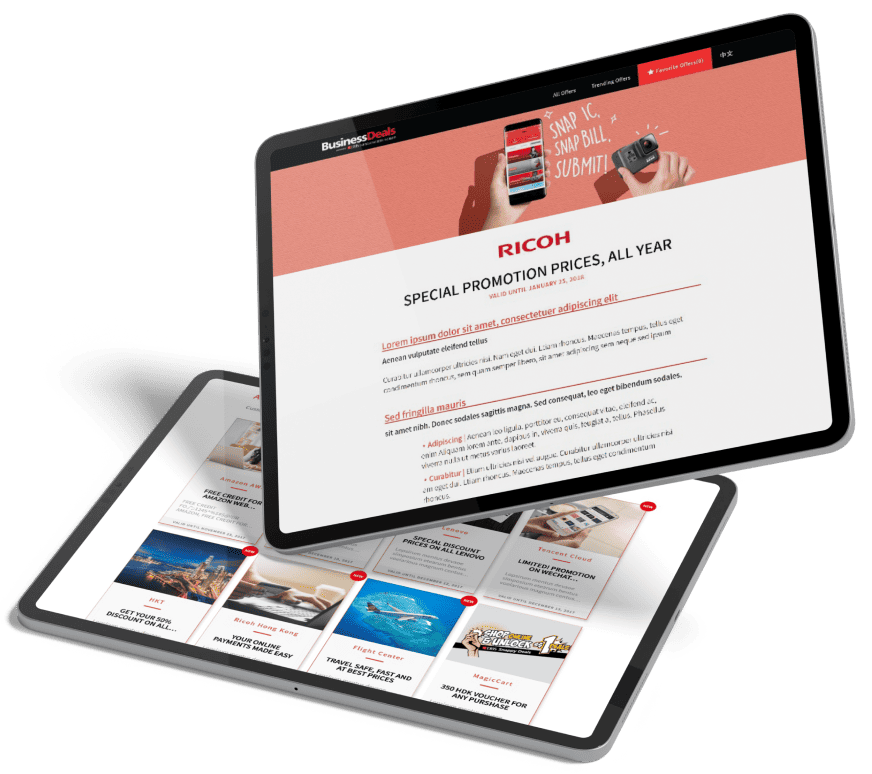 Cross-border eCommerce logistics platform for global marketplaces & sellers.
Over the past 4 years, Ship24 has firmly placed itself as a major actor in the highly competitive global eCommerce logistics market, offering a groundbreaking end-to-end delivery management platform tracking more than 50 million cross-border parcels every month from thousands of different carriers, marketplaces, and e-tailers.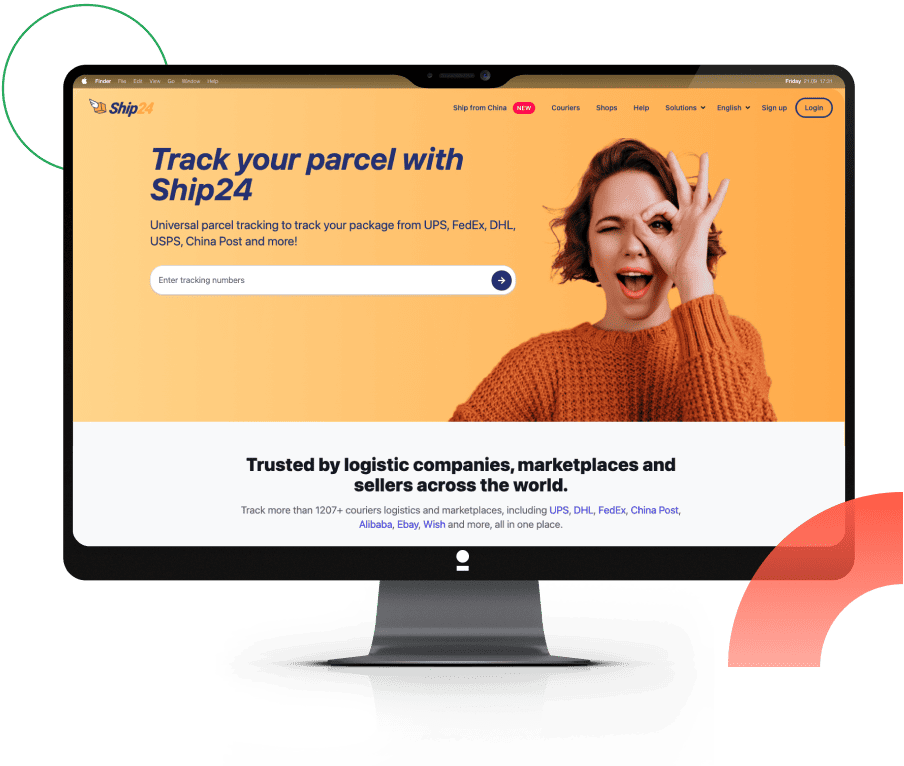 After preliminary strategy, product design and technical architecture studies, Okoone's consultants allocated a team of highly experienced frontend & backend web, data, design and digital growth experts to achieve Ship24's vision to offer quick and cost-effective tracking and shipment solutions.
Thanks to its combined expertise, Okoone effectively grew Ship24.com from 0 to 15M yearly active users within 2 years of the initial platform release. Today, our teams are continually working towards providing the ultimate tracking, shipping and delivery experience for both individuals and logistics professionals around the world.

Breakthrough eCommerce platform popularizing a brand through global reach.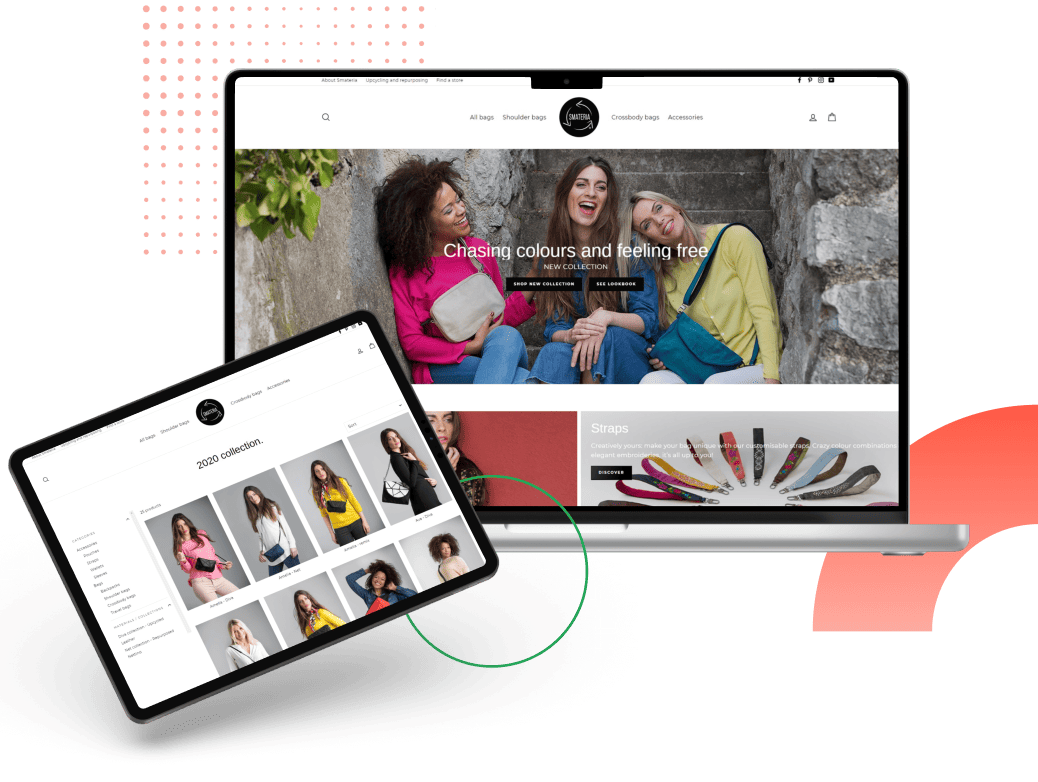 Smateria is a women-owned trend-setting fashion brand, founded in 2006, merging sustainable up-cycling practices with stylish and functional products. Mixing elegance, creativity and the use of unconventional materials for their most famous line of bags, Smateria's unique touch has made its way from Southeast Asia to the United States, Europe, Japan and China, with an ever-growing following.
Together with Smateria, Okoone's experts endeavoured to rethink the complete customer journey, designing and building a global platform that best serves individual buyers and Smateria's large reseller network around the globe.
Smateria's eCommerce platform integrates a constellation of multilingual worldwide e-stores targeting global audiences and featuring multi-currency payment processing. The platform combines the fashionable look-n-feel of Smarteria's exclusive and ethical product lines with the operational effectiveness of a world-class eCommerce platform.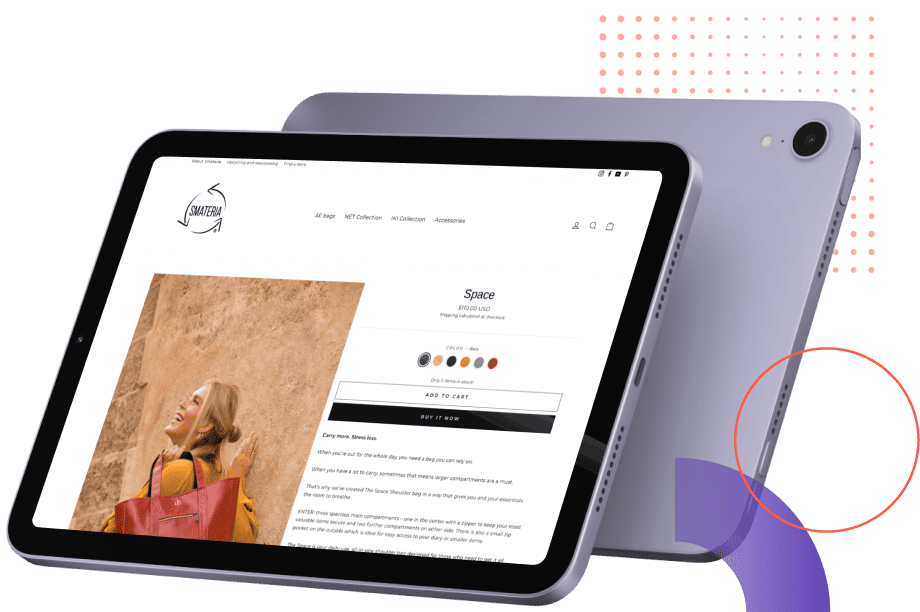 Full-fledged web platform for seamless digital communication solutions.
Headquartered in Boston, USA, Grandstream, the world's leader in VoIP solutions, has connected businesses for over two decades. Grandstream leverages the latest technological innovation in cloud, streaming and security to offer communication solutions to forward-thinking organizations.
With products ranging from audio & video IP phones and business conferencing products to network gateways, Grandstream offers an extensive hardware and software ecosystem that enables seamless communication for thousands of companies worldwide.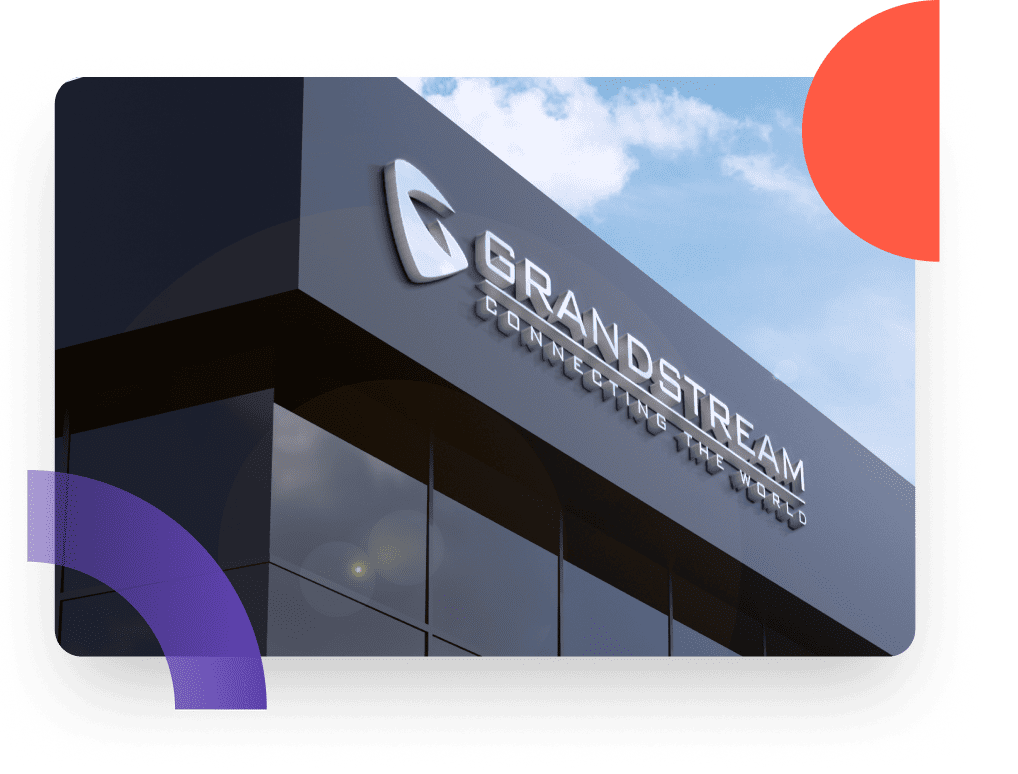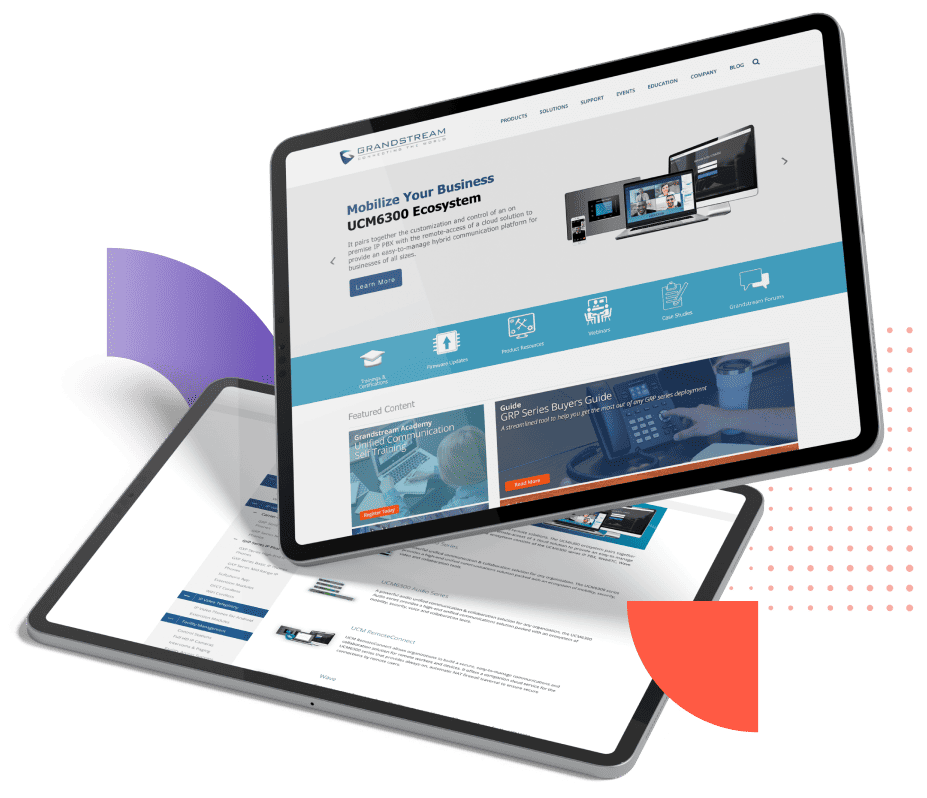 Grandstream's Boston headquarters collaborated with Okoone to provide their customers and partners with an enhanced digital experience for purchasing and managing their VoIP ecosystems, and accessing critical information.
Okoone's UI/UX design & web engineering teams revamped Grandstream's brand image to align with their well-grounded reputation, developing a global corporate web platform featuring hundreds of product pages, elastic search for self-service documentation & support, eCommerce & helpdesk functionalities and more.
Powering major cross-border eCommerce logistics with a versatile ERP built from the ground up.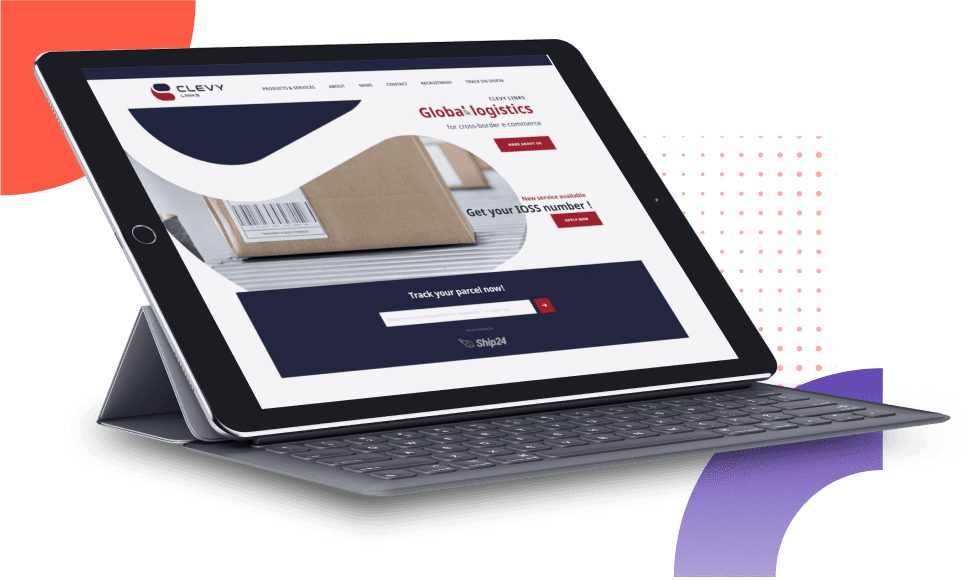 Clevylinks was founded in 2012 during China's eCommerce uprise, and shortly after, entered a partnership to provide cross-border logistics services to Alibaba. Clevylinks has since then firmly established itself as a major player in the eCommerce logistics industry.
Over these years, Okoone enabled Clevylinks's fast growth by continuously designing, developing and maintaining a versatile, robust and scalable ERP platform empowering every aspect of their business.
This entreprise-grade platform now serves dozens of major worldwide marketplaces, consolidators and e-sellers, handling and delivering over 50 million parcels to consumers around the world every year to feed ever-growing eCommerce demand.
Clevylink's platform features real-time parcel management and tracking, automatic selection of logistic corridors, automatic parcel sorting, hundreds of API integrations with global partners across the logistics chain, dashboards, business intelligence reporting and more, processing tens of millions of database queries per day.
Okoone's product managers, software engineers and data & AI specialists work everyday with Clevylinks to adapt to the rapidly evolving eCommerce market, explore new business opportunities, and leverage the latest technologies to build new innovative logistics products with an edge in the existing market.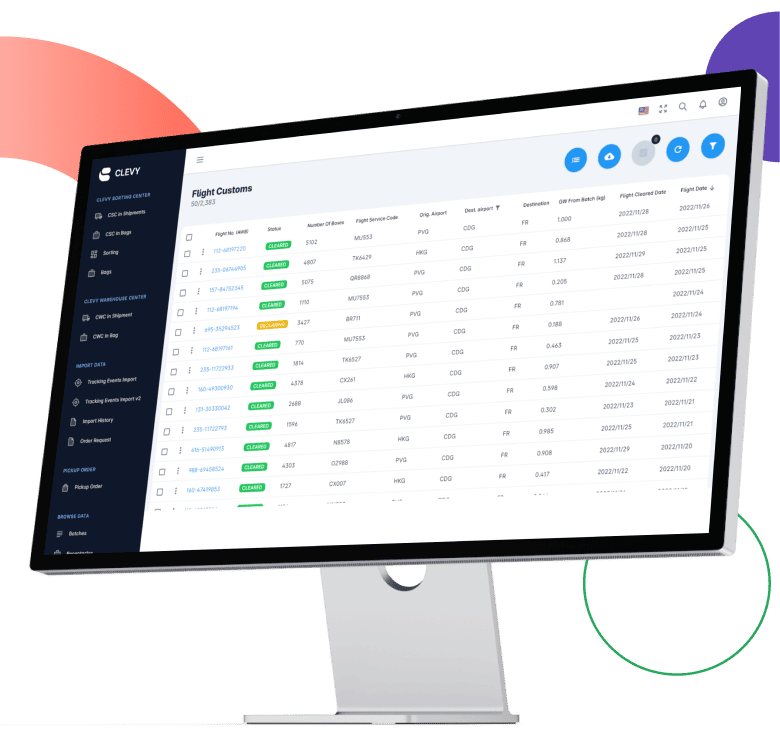 Designing and building the world's most advanced digital photo frame ecosystem.
Over the past decade, Pix-Star's mission has been to bring families together through sharing and reliving precious memories with loved ones. Pix-Star makes it possible to easily upload and manage photos & videos with a best-in-class mobile app and web dashboard, and display them on any Pix-Star digital photo frame.
Okoone has worked closely with Pix-Star to build this powerful digital ecosystem by designing and developing their iOS & Android mobile app, web platform, IoT Android-based digital photo frame, and eCommerce Shopify & Amazon storefronts. Okoone's teams combined UI/UX design with web & mobile software engineering to come up with a seamless experience across devices for all age groups.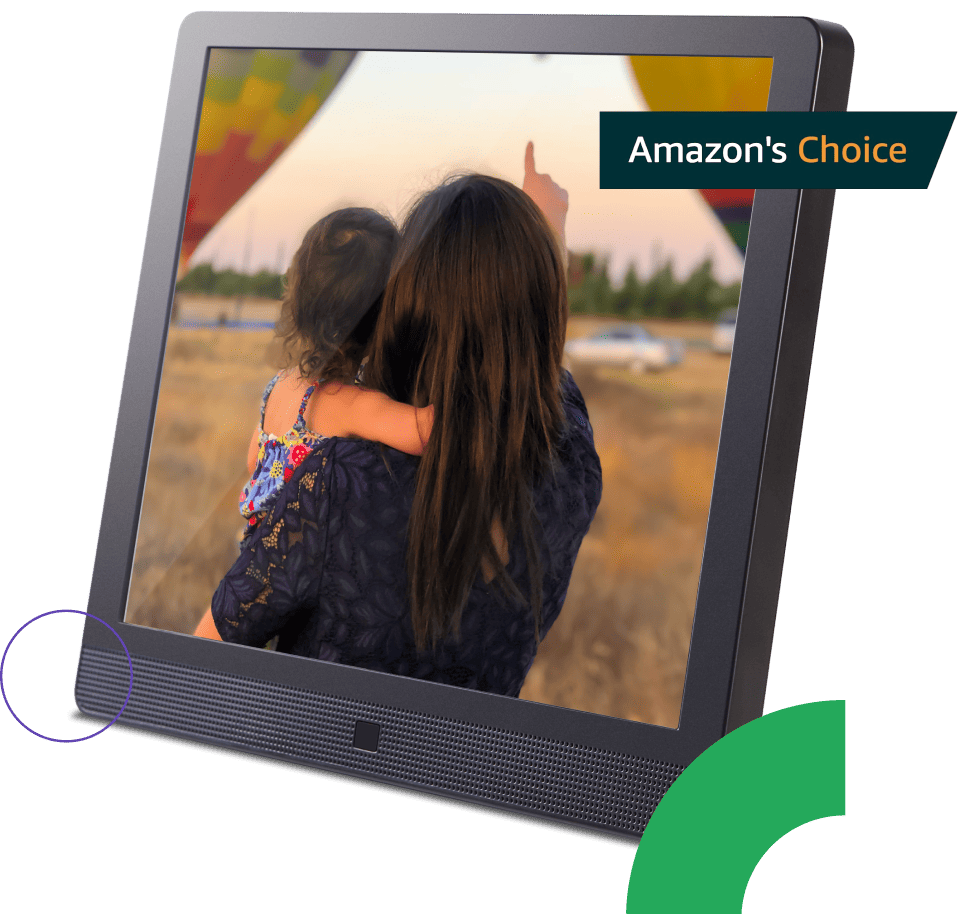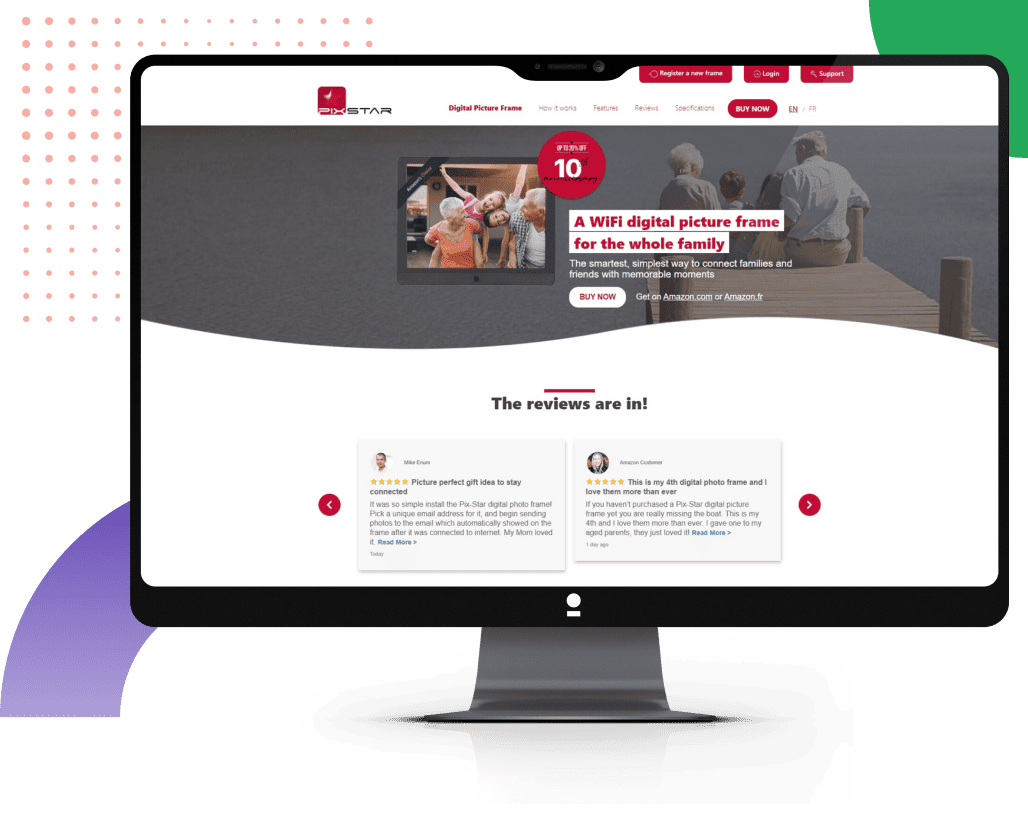 Okoone also planned and executed a comprehensive digital branding & growth strategy to enhance Pix-Star product discoverability across various key channels, resulting in exceptional organic growth. Best-seller and Amazon's Choice Product for 5 consecutive years, with tens of thousands of photo frames sold every year, Pix-Star is expanding the brand beyond the US to the rest of the world.